Sangle 304 Stainless Steel Pet Cages adopt supper 304 stainless steel with good anti-corrosion performance.More than 10 years service time save so much space and easy to be taken.The tray is helpful to collect pet furs and faeces. Low noise roller helpful to move the cages freely as you like.
VET LINE VETERINARY & GROOMING ALL STAINLESS STEEL CAGE BANKS
Feature:

.SUS304 stainless steel material, bite proof and vibration proof, very sturdy.
.Easy to attach together with smart designed strong stainless steel joint connection parts. Four small ones, three medium ones and two large ones are an assembly group.
.Totally sealing well absolutely; the best choice for high class vet clinics and kennels.
.Another customized size system also available, please check the following chart.
Technical Data:
1).Item Name: Stainless Steel Pet Cages
2).Model: SL-PC153
3).Material: 304 Stainless Steel Door,202 Stainless Steel Plate, with good anti-corrosion
4).Function: Stable,Durable,equipped with stable fixing door,movable insolating plate and bottom tray.
5).Size:153CM*75CM*200CM
6).Modular Cage Bank Units by cutomers' request
7).Use for pets.
Combined Cage Unit available Size: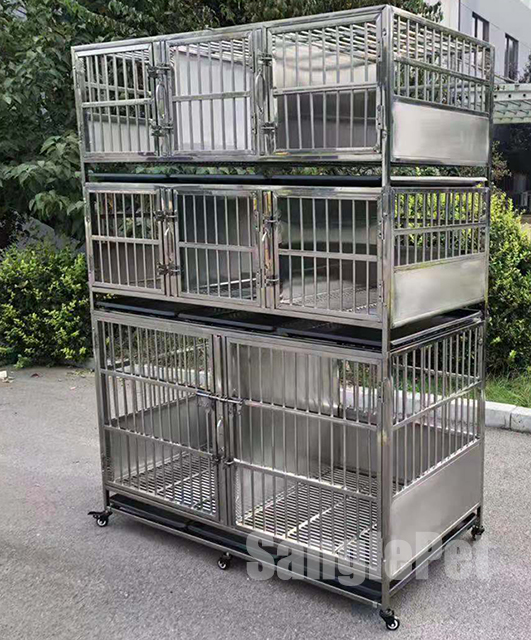 Unit Bank Size available:
L size: 94cm*63cm*75cm (A); 94cm*63cm*65cm (B)
M size: 110cm*70cm*95cm(A); 110cm*70cm*75cm(B);
XL size: 125cm*75cm*100cm(A); 125cm*75cm*75cm(B)