What is the microbubble bath or milky spa bath?
-SanglePet
Micro bubbles are bubbles that are smaller than pores with a bubble diameter of only several tens of microns. This micro foam penetrates into the hair roots and cleans pore dirt, redness and old calluses.It has the effect of removing the smell and cleansing. By attaching the removed dirt to the foam, it also has the effect of preventing the redeposition of dirt, and it also improves the smoothness of hair after washing. According to a survey by pet insurance companies, skin diseases are the most common diseases. So many pet owners would like to choose the microbubble bath to give their pets an amazing spa bath at a big higher cost,which is not only helpful to keep the pets clean,but also most importantly for pets' health.
The effect of microbubble bath looks like milk bath,so it is also called as milky spa bath.
With the improvement of people's life,the healthy way of bath would be become more and more popular in pet grooming business. In response to the popularity of the conventional micro-bubble bath, SanglePet has developed and pushed more and more spa tubs to market,which could be equipped with microbubble bath or milky bath function.
マイクロバブルは気泡径わずか数十ミクロンという毛穴より小さな泡です。このミクロの泡が毛根まで入り込み、毛穴の汚れやアカ、古い角質をキレイに取り除き、臭いまですっきり落とす効果があります。取り除いた汚れを泡に付着させることで、汚れの再付着を防止する効果もあり、洗いあがりの毛ヅヤもよくなるというのが特徴です。ペット保険会社の調査によると、皮膚病が最も一般的な病気です。従来のマイクロバブルバスの人気に応えて、スタンダードタイプの浴槽にもマイクロバブルシャワーを装備することができました。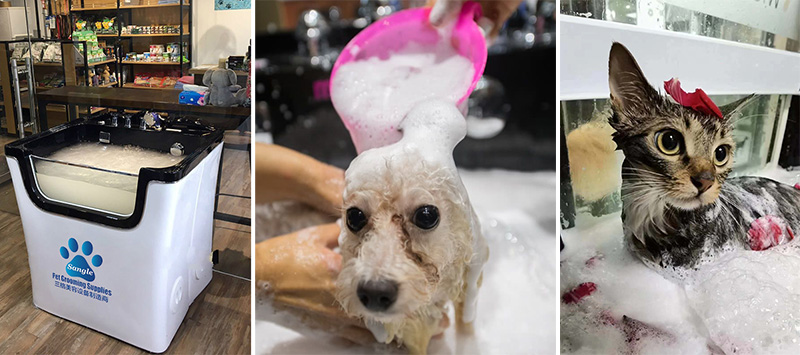 More types of tub with microbubble function could be confirmed with us and pls feel free to contact us for more details.